60lb/yd ASCE Rail, 60LBS Rail
Type: Light Rail
Material: 700
Weight: 29.76kg/m
Length: 6-12m
Standard: ASTM A1/AREMA

Product Description:

The ASCE 60/60lbs rail model is manufactured according to the the American standard ASCE. It is used for Light track applications. This is a type T section rail (flat botom rails) with a 29,76 kg mass per meter, equivalent to 60 pounds per yard, where its named comes from.
ASCE is the American Society of Civil Engineering and provides standards for the manufacture of differents railway industry components.The ASCE rails are used in light cranes, mining tracks, automatic warehouses and other industrial applications. The 60lbs rail is one of the most used in the world for this type of applications.
Product Parameters: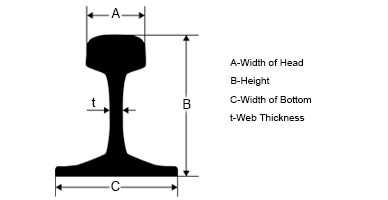 Product Name
American Standard Rail
Standard
ASTM A1/AREMA
Model
DIMENSION
Weight
Material
Length
A(mm)
B(mm)
C(mm)
t(mm)
(KG/M)
(m/PC)
ASCE 25
38.1
69.85
69.85
7.54
12.4
700
6-12
ASCE 30
42.86
79.38
79.38
8.33
14.88
700
6-12
ASCE 40
47.62
88.9
88.9
9.92
19.84
700
6-12
ASCE 50
54
98.4
98.4
11.11
24.855
700
6-12
ASCE 60
60.32
107.95
107.95
12.3
29.76
700
6-12
ASCE 75
62.71
122.24
122.24
13.49
37.2
900A/1100
12-25
ASCE 85
65.09
131.76
131.76
14.29
42.17
900A/1100
12-25
90RA
65.09
142.88
130.18
14.29
44.65
900A/1100
12-25
115RE
69.06
168.28
139.7
15.88
56.9
900A/1100
12-25
136RE
74.61
185.74
152.4
17.46
67.41
900A/1100
12-25
175LBs
109.86
152.4
152.4
38.1
86.8
900A/1100
12-25
Drawing: