9KG Light Rail
Type: 9kg rail
Material: Q235/55Q
Weight: 8.94KG/M
Length: 6-12m
Standard: GB11264-89
Product Parameters: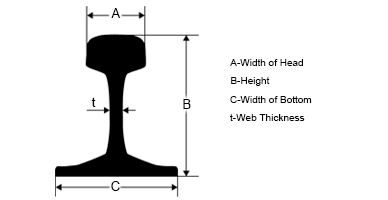 Product Name
CHINESE STANDARD LIGHT RAIL
Standard
GB11264-89
Model
DIMENSION
Weight
Material
Length
A(mm)
B(mm)
C(mm)
t(mm)
(KG/M)
(M/PC)
GB 6KG
25.4
50.8
50.8
4.76
5.98
Q235
6-12
GB 9KG
32.1
63.5
63.5
5.9
8.94
Q235
6-12
GB 12KG
38.1
69.85
69.85
7.54
12.2
Q235/55Q
6-12
GB 15KG
42.86
79.37
79.37
8.33
15.2
Q235/55Q
6-12
GB 22KG
50.8
93.66
93.66
10.72
22.3
Q235/55Q
6-12
GB 30KG
60.33
107.95
107.95
12.3
30.1
Q235/55Q
6-12
Standard
YB222-63
Model
DIMENSION
Weight
Material
Length
A(mm)
B(mm)
C(mm)
t(mm)
(KG/M)
(m/PC)
YB 8KG
25
65
54
7
8.42
Q235
6-12
YB 18KG
40
90
80
10
18.06
Q235/55Q
6-12
YB 24KG
51
107
92
10.9
24.46
Q235/55Q
6-12
Light rail is the weight less than or equal to 30kg per meter.9kg rail is one of light steel rails. The quality requirement of light rail is lower than heavy rail. So we only require to test the chemical component, the strength of extension, the hardness and the drop weight experiment.The material of 9kg rail is q235/55q. The length of 9kg rail is 6-12m/pc.
9kg rail is oriented and load bearing, 9kg rail is used with the track wheel, to support the weight .9kg rail changes the direction of the cart.9kg rail consists of rail head, rail waist and rail bottom.
Main Application:
9kg rail is mainly used for the laying of temporary transportation lines and light locomotive lines for forest areas, mining areas, factories and construction sites.9kg rail is used for laying temporary transport and light locomotives lines.
As a leading railway fasteners manufacturers-Zongxiang in China,we offer you a competitive price of 9kg rail and good services .We have many customers who purchase 9kg rail.We have enough ability to customer satisfied in 9kg rail.
If you are interested in our products or have any questions about 9kg rail. Please click the online support or leave a message.
Tel: +86 19937123680
whatsapp: +8619937123680
E-mail: zxsteel@zxsteelgroup.com