Equal Angle Bar
Type: Equal Angle Bar
Material: Q195, Q235, Q345
Length: according to your request


Equal angle bar
Features:
These angles can be used for a variety of applications including reinforcement of buildings, support frames, members for plant facilities and machinery.
They have excellent strength, tensile strength, and workability while having no warping.
Applications:
Equal angle bars are versatile products that are used in buildings, ships, railroads, and industrial machinery.
Parameters:
Length: 6m, 9m, 12m(cutting to meet your request)
Material: carbon steel, stainless steel
Surface treatment: Black and Galvanized
Grade: Q195, Q235, Q345(Chinese standard), 304, 310, etc.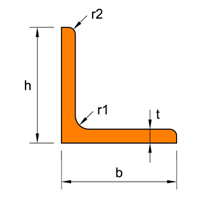 h×b(mm×mm)
kg/m
t(mm)
r1(mm)
r2(mm)
20×20
0.87
3
5
3
25×25
1.12
3
5
3
1.65
5
5
3
2.08
6
5
3
30×30
1.35
3
5
3
2.01
5
5
3
2.56
6
5
3
40×40
1.83
3
5
3
2.73
5
5
3
3.5
6
5
3
50×50
2.31
3
6
3
3.48
5
6
3
4.46
6
6
3
5.68
8
6
3
65×65
4.56
5
6
3
5.87
6
6
3
7.51
8
6
3
9.02
10
6
3
75×75
5.27
5
8
5
6.81
6
8
5
8.73
8
8
5
10.5
10
8
5
90×90
8.22
6
8
5
10.6
8
8
5
12.7
10
8
5
100×100
9.16
6
8
5
11.8
8
8
5
14.2
10
8
5
17.7
12
8
5
125×125
14.9
8
10
5
18
10
10
5
22.5
12
10
5
29.1
16
10
5
150×150
21.9
10
13
5
27.3
12
13
5
35.4
16
13
5
42.1
19
13
5
200×200
40
13
18
5
48.7
16
18
5
60.1
20
18
5