2000 sets of steel rail clamps exported to Cambodia
Edit:Zongxiang Heavy Industry--Jolin Date:2023-03-21 17:26:06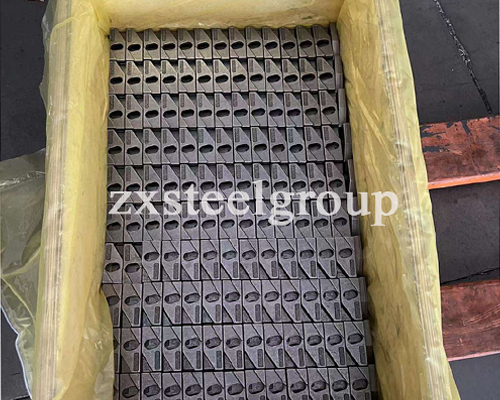 Rail clamp, is a kind of device to be clamped on rails to prevent the train from moving or passing, a given point to the ground as at platforms or on stub tracks, to avoid risks or dangers. Such clamps are always bolt-able, self-locking. ZXSTEELGROUP provides a wide range of rail clamps, which is commonly applied in rail construction around the world for its top class and durability. Our rail clamps are manufactured and designed by using high grade steel and other materials, conforming to the parameter of industry and market demands.
We can supply various kinds of rail clamps or clips meeting clients' need, for different rail conditions, no matter for subway, mainlines or crane rails. For materials of rail clamps, Q235 by forging, ZG35 of cast steel and QT500-7-cast iron are top 3 choice, based on our production experiences. rail clamps For overhead crane
Crane clamps enable the rails to be installed with good tolerances, with them adjustable to ensure the rails' precise alignment. Our clamps are designed to carry the heavy load with cranes pass to the rails. For installation method, it can be bolted or welded, up to the end user's needs.
Rail clamps of self locking is a special design to secure and fix the rails with a rubber nose. Such clamps can be used in different rail types through adjusting the height of the rubber nose.
It is a kind of bolt able clip with high strength. They are more popular used in rail fastening systems, by combining with ribbed tie plates, rail bolts and washers.crane type rail clips
This customer purchased rail clip for his company. A set of rail clip includes one upper clip, one lower clip, one set of bolt and nut. And the weight for each set is 0.65kg.
We can supply rail clips for various sizes of steel rail and recommend suitable clips for your projects, as well as the steel rail with different standards.